The acoustic and physical conditions of a swimming pool require specially adapted solutions.
Chlorine-containing air reacts aggressively to building materials and leads to increased corrosion.

A safe and pleasant swimming pool environment

Relaxation and exercise in an indoor pool are most comfortable when no reverberation disturbs the acoustics. However,
due to the use of hard materials on the floor and on the walls, this is unfortunately often the case.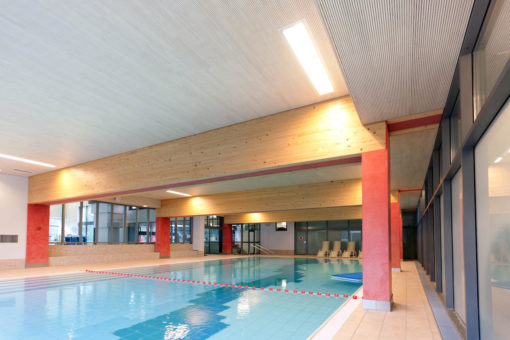 By using acoustic wall panels and / or acoustic or ceiling panels, we can eliminate such unwanted reflections and reverberation for you. In this way,
swimming in the indoor pool can provide the same level of acoustic comfort as outdoors.
Those who spend more time in private pools or even work there quickly notice that the acoustic ambient conditions are usually anything but pleasant. Especially noises of the equipment such. B. of water slides and hot tubs, but also the activities of the users lead to high sound levels. Guests feel disturbed, the staff experience permanent acoustic stress and the voices of the trainers become hoarse. The situation is perceived as too loud, exhausting or exhausting - everyone's subjective noise pollution is too high.

Indoor swimming pools and swimming pools are often very lively and noisy places where noises bounce off the hard surfaces of ceilings, walls and floors and spread over the surface of the water.

It is important to remember that these areas are not only fun and games, but also jobs. For example, swimming coaches must be able to instruct swimmers and lifeguards must be able to quickly determine what a call for help or a possible emergency could be.

Challenge
Constantly high noise level.
Large open spaces in which the sound can spread freely.
Poor speech intelligibility.
High humidity, high temperatures, chloride and the risk of direct water splashes.

Use a wall-to-wall sound absorbing ceiling.
If possible, add wall absorbers, at least on two adjacent walls.
Use free-hanging elements if a ceiling from wall to wall is not possible.
Look for products that are water-resistant, chloride-resistant, corrosion-resistant, and resistant to high humidity and high temperatures.

Of course, the specific fire protection requirements have been met. For optimum acoustics in the swimming pool,
we have supplied our acoustic panels made of a special, hard-inflammable rigid foam. Builder and architects are extremely satisfied with the result.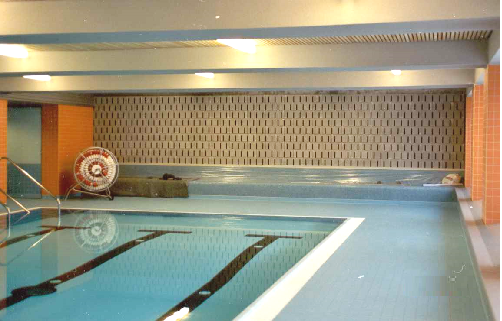 กก